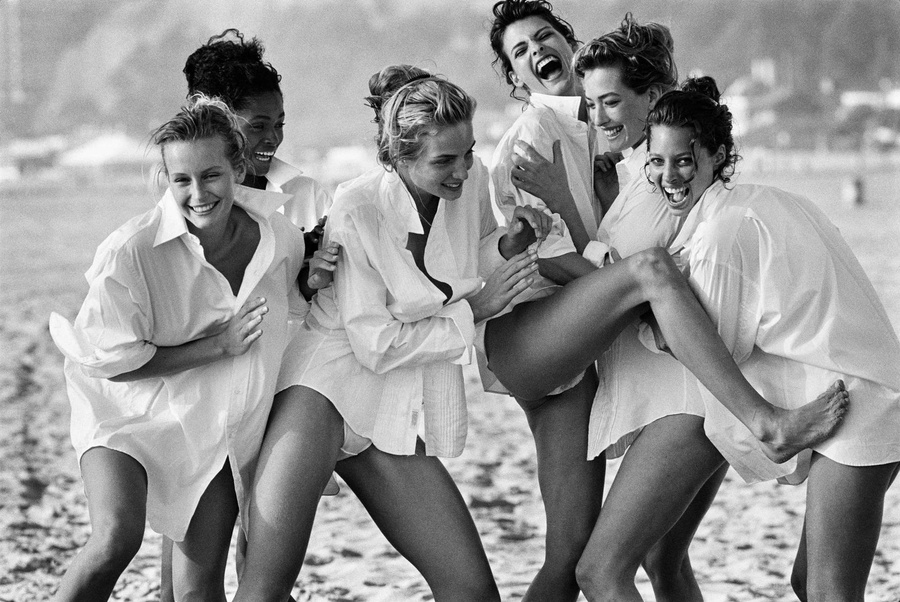 © Peter Lindbergh | Estelle Lefebure, Karen Alexander, Rachel Williams, Linda Evangelista, Tatjana Patitz, Christy Turlington, Vogue U.S.A., Santa Monica, California, 1988.
Edition n°0
First Editorial
We often believe visionaries are gifted with the ability to see the future. We are wrong. And, without quite realizing it, we stick to the past through habits, traditions, constraints, methods and received ideas. What do visionaries see, then? Simply the present, and the opportunities it bears, paving the way towards unforeseen possibilities. Which is precisely how late fashion photographer and director Peter Lindbergh approached his work. Unmissable and absolutely essential, his work managed to escape the frame of commercial projects, and thus land in a creative Terra Incognita. A new language then emerged, and with it, narratives. His images are not meant to be looked at, but rather to be read. No doubt that part of the increasing interest vested in storytelling nowadays stems from Lindbergh's craftsmanship. Summarizing his career in just a few lines is indeed a hazardous endeavor, but instead, we wish to stress the indisputable legacy he represents for the arts and commercial photography.
The rationale behind our new magazine is honoring this commissioned creativity as personified by Peter Lindbergh. One that burst with life, lift up our spirits, and give meaning to our daily existences. Since Ooshot was created, our mission was to imbue brand communication with creativity by providing access to photographers, video makers and other visual creators.
And in an effort to increase visual creativity diffusion, Ooshot launched the Ooshot Award: the first ever commercial photography prize. Fostered by a prestigious sponsor - William Klein - and a distinguished jury, the Ooshot Award broke all records in receiving over 500 applications on its first year. The prize was awarded to photographer duo Ambroise Tézenas and Frédéric Delangle for a commissioned project on "Emmaüs". Their work was exhibited alongside the shortlisted artist's last April at BETC's magasins généraux as part of a one-off event. Their success proves once again the outstanding creativity of commercial photographers.
Ooshot magazine was born from the need to spread this creativity, which can only exist because of you: the communication and marketing experts. This newly created editorial board has at heart to share the most memorable moments, the strongest, most iconic places and artwork. In this edition 0, we touch upon Les Rencontres d'Arles and their powerful mediating force, supported by the work of curators, too often ignored and too rarely acknowledged.
Other crucial players to acknowledge: clients, companies and brands that take risks and put their trust in young inspired photographers. We strongly believe that local communities can benefit from working with brands; it creates a profitable, vital synergy that brings manifold benefits to all levels. Two initiatives caught our attention. SCOR decided to shoot all its facilities (37) throughout the world by architecture photographers revealing how diverse and little known the corporate environment might be (Latin America beats it all). Mobile phone operator Bouygues Telecom, wishing to expand its visuals' attractiveness on Instagram for its local advertising campaign, collaborated with photographers from all over France — reminding us that creative talent can be found outside Paris. More about these stories in brands' column Hitting the Bull's Eye.
Technology. Globalization. Interculturalism. Creative processes and project managing currently face game-changer issues. In the special column Talent Talking, find out what foreign photographers — from Moscow to Hargeisa, Somalia — have to say about it. Keep reading to find two fresh perspectives on photography as a profession. From Street Art to Instagram, everyone seems to be a photographer, but look twice, as capturing the decisive moment won't make you pro overnight. Discover why in Campus and Spotted on Instagram.
Happy new season!
Valerie Hersleven
Ooshot Magazine Founder